The inspiration of this dish is from Ghanaian dish Waakye – A rustic dish made with rice , beans (black-eyed peas ) and kanwa .
– A rustic dish made with rice , beans(black-eyed peas ) and kanwa .
Here is my version of this spicy flavorful rice and beans. While I absolutely love smoked meat or fish in my beans; I thought it would to a good idea to make this without any fish. However, if you have crayfish do include them to make up for the loss of the smoky flavor.
I did not include crayfish in this version. I added some smoked paprika to make it tastier and it always does the trick.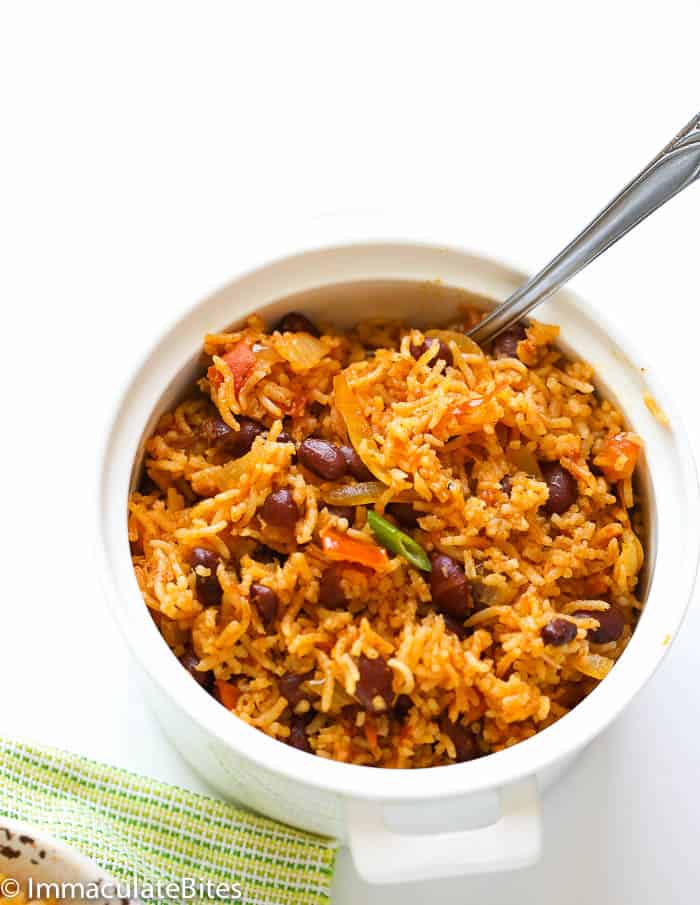 Serve it with this chicken here
Enjoy.!!!
African Rice and BeansPrep Time15 minsCook Time35 minsTotal Time50 mins
African Rice and Beans — spicy flavorful rice and beans combo flavored with onions, thyme, smoked paprika and garlic. Course: MainCuisine: AfricanServings: peopleCalories: 487 kcalAuthor: Immaculate Bites
Ingredients
½ cup red / palm / or canola oil I used ½ and ½
2-3 garlic clove minced
1 medium onion diced
1 tablespoon smoked paprika
1 teaspoon dried thyme
½ scotch bonnet pepper or ½ teaspoon cayenne pepper
4 tomatoes diced
2 cups washed long grain rice I used basmati
2 cups cooked beans black, red, black-eyed peas
4 1/2 – 5 cups chicken broth or water
1 tablespoon salt or more to taste
1/4 cup crayfish optional
1 teaspoon chicken bouillon optional
Instructions
Heat a saucepan with oil. Then add onions, garlic, thyme, smoked paprika and hot pepper, sauté for about a minute, add tomatoes. Cook for about 5-7 minutes.
Stir in rice to the pan; continue stirring for about 2 minutes.
Then add beans , 4 1/2 cups of chicken stock/water, bring to a boil reduce heat, and simmer until rice is cooked, about 18 minutes or more. Adjust for salt and pepper. You have to stir occasionally to be preventing any burns.
Serve warm with chicken, stew or vegetables
This recipe was update March 17  from Waakye to African rice and beans.
Source: africanbites